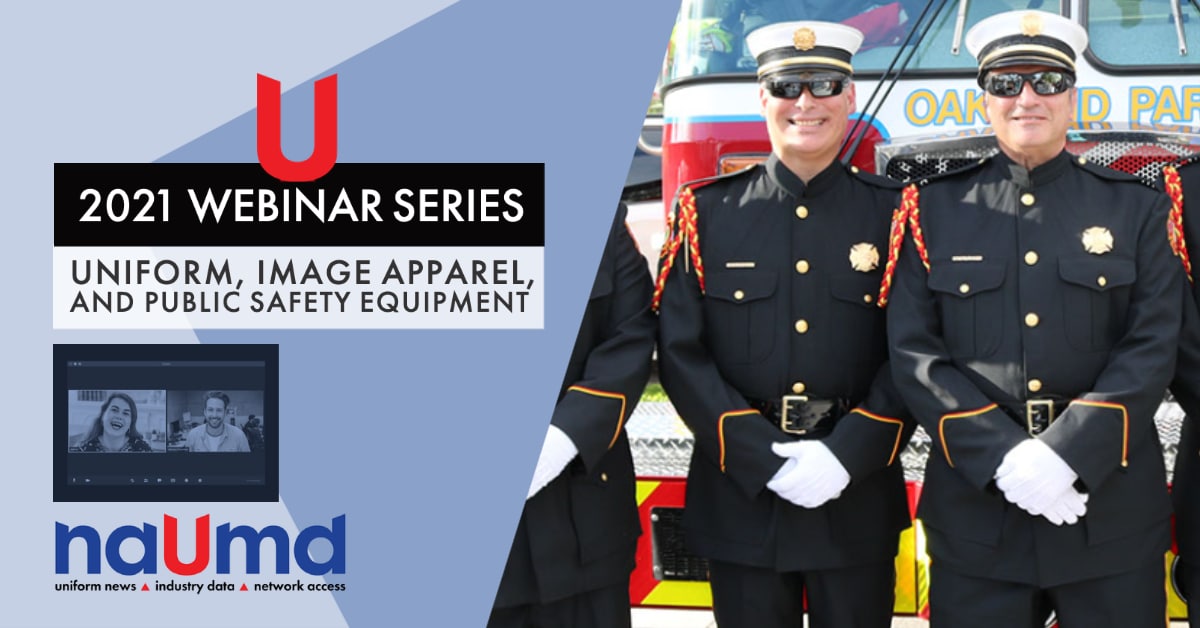 Webinars are presented on the first and third Thursdays each month.
All webinars are free to attend.
Today's uniform customers are more demanding. Their budgets and contract demands reflect that. By offering your customers better ways to control employee ordering you can win more RFPs, contracts, and own the customer for a longer period.
In this session you will learn:
- How to expand your corporate program management revenue
- How to evolve your customer relationships by helping the customer solve their uniform budget issues using allotments
- How customers perceive the value of these uniform specifications
- How to simplify handling the data and rule management for any kind of allotment program
DAY: Thursday, February 4, 2021
TIME: 1:00 PM CST
COST: Free
Developing the right fit for different body shapes, especially during movement, is one of the greatest challenges for apparel. Ill-fitting workwear can restrict range of motion, lower productivity and cause injury. Hohenstein uses 3D and 4D scanning to measure body shapes of a target group during predicted motions.
Then, using analysis of how movement affects fit - and how fit affects movement - patterns and measurement tables are optimized to efficiently cover the entire target group.
Learn how to improve workwear with relevant data, improved digital or traditional design processes and clear manufacturing instructions.
PRESENTER:
Dr. Jan Beringer serves as the Senior Scientific Expert for Hohenstein.
In this role, he uses his extensive knowledge to lead the development of clothing physiology, fit and workmanship of garments, functionalization of fabrics, textile UV protection and textile reprocessing. He has extensive knowledge in textile and fiber chemistry, functionalization, nanotechnology, coating and finishing and clothing physiology. Dr. Beringer holds a Doctorate in Natural Sciences in Chemistry with a focus on Textile and Fiber Chemistry from the University of Stuttgart.
DAY: Thursday, February 18, 2021
TIME: 1:00 PM CST
COST: Free
This webinar will provide an overview of how uniform sellers can assist uniform program employee shoppers, helping them best determine the correct sizes to order, every time.
Case study examples of how uniform providers improve ROI by reducing returns.
What is the future of self-service, shopper sizing technology, and what place does it have in the uniform industry
DAY: Thursday, March 4, 2021
TIME: 1:00 PM CST
COST: Free
A conversation with Dr. Amber H. Mitchell, President & Executive Director, International Safety Center
Hosted by Ben Favret Founder & CEO of VESTEX Protects.
This discussion will:
- Address how uniforms and apparel acquire and spread viruses and bacteria that can cause infections and illnesses in workers and the community.
- Show how to differentiate between scientifically proven, effective, and safe, technologies that provide microbial protection to wearers and the community compared to empty claims that some manufacturers and technologies may make.
- Present a National Call to Action that addresses the emerging frontier of textile technologies that can reduce microbial contamination on apparel.
Amber Hogan Mitchell, DrPH, MPH, CPH
Dr. Mitchell's career has been focused on public health and occupational safety and health related to preventing infectious disease. She is currently President and Executive Director of the International Safety Center and is the Immediate Past Chair of the Occupational Health and Safety section of the American Public Health Association (APHA). She is also a Senior Science Adviser for the NIEHS Worker Training Program for COVID-19 response. Dr. Mitchell holds an adjunct faculty position at the University of Maryland School of Medicine Department of Environmental and Occupational Medicine and has published multiple peer reviewed articles and a book chapter on the role of apparel and textiles in transmission of pathogens.
DAY: Thursday, April 1, 2021
TIME: 1:00 PM CST
COST: Free
Worker safety is a high priority. But, safety from harmful substances is often overlooked. 4-8,000 chemicals, in countless formulations, enter the apparel and footwear supply chains. Regulations vary by location and change regularly.
New technologies and scientific data make it nearly impossible for manufacturers or employers keep up. STANDARD 100 by OEKO-TEX® is an independent certification system that tests every component of the workwear for chemical substances that are harmful to health. Quality assurance checks are built into the annual certification and standards are updated regularly to stay ahead of industry and legal changes.
Products that have been completely and successfully tested are awarded the STANDARD 100 label for clear and verifiable communication.
PRESENTER
Ben Mead serves as the Managing Director of Hohenstein Institute America. In this role, he serves as the company's liaison with government agencies, industry collaborations and trade associations.
He also oversees OEKO-TEX® responsibilities for the U.S.
Prior to joining Hohenstein in 2014, Ben consulted with various brands and industry associations, including Textile Exchange and AFIRM. In those roles, Ben established partnerships with industry leaders and experts to increase industry engagement in green chemistry and sustainable textile processing.
While working for Nike, Ben helped develop a restricted substances program and was involved in the implementation of sustainable materials and water programs.
Ben holds degrees in Chemistry and Textile Chemistry from North Carolina State University and a certificate in Green Chemistry from the University of Washington.
DAY: Thursday, June 17, 2021
TIME: 1:00 PM CST
COST: Free
Studies show a direct correlation between comfort and cognitive performance.
Comfortable workwear requires holistic product development and data-based decisions. Hohenstein quantifies the workwear-human-environment interaction - specific to intended use situations.
Join us to discuss the thermal, ergonomic and skin sensory factors that enhance comfort, and therefore worker performance.
DAY: Thursday, July 15, 2021
TIME: 1:00 PM CST
COST: Free