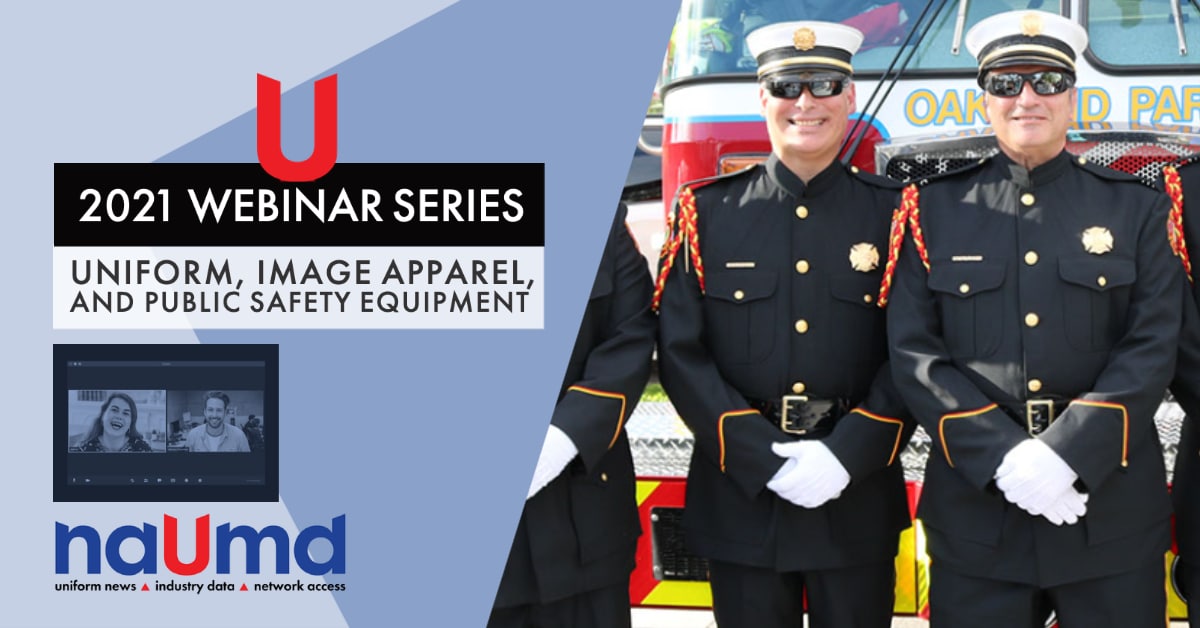 Welcome to the
NAUMD 2021 Webinar Series,
an educational year-long event. The manufacturers, retailers, distributors, and associates of the NAUMD share their best practices with each other, and the uniform, image apparel, and public safety equipment industry.
All webinars are free to attend.
Presented by the NAUMD.
In cooperation with Klopman International
Join us for a webinar presentation featuring six uniform industry leaders representing six different countries. This panel of international perspectives will offer a look at how uniform companies around the world have met the challenges of the past year. Panelists have also been invited to offer their opinions on where the uniform industry and market segments will be headed in the near term.
Six panelists, six-minute briefs from six different countries

Panelists are all from leading uniform manufacturers or sellers

After the panelist talks there will be a question, answer and discussion period
DAY: Thursday, April 29, 2021

COST: Free
TIME ZONES:
LOS ANGELES 6:00 AM PST

NEW YORK 9:00 AM EST

RIO DE JANEIRO 11:00 AM

LONDON 2:00 PM GMT

BERLIN 3:00 PM CET

DUBAI 6:00 PM GST

MUMBAI 7:30 PM IST

BEIJING 10:00 PM CST
There are many opportunities for the uniform and public safety equipment dealer to sell high visibility garments. This is not news, of course. But the full range of the market offers more than most realize.
This webinar will provide an overview of what the ANSI visibility recommended standards are, and how to identify when to use various classes of garments.
Then, we list and describe the jobs, companies, and markets that these standards can have a profound impact on for worker safety. 
Lastly, we will dive into detailed examples of these various groups of end-users who already wear (or who should be wearing) high visibility apparel as part of their uniform program.
Sell more high-visibility by understanding more.
DAY: Thursday, May 6, 2021
TIME: 1:00 PM CST
COST: Free
See Ahead and Plan Ahead.
When it comes to technology and selling online, we all benefit from outside guidance. These conversations are often critical to gain perspective.
Join your industry colleagues from Sellers Commerce to hear about how to start, revitalize, or enhance your uniform business.
The recent global events have no doubt changed the way many companies will be purchasing uniforms. This webinar will assist you in how to not only think about these changes, but adjust your approach.
You will absorb action items to gain traction now to drive your uniform business in 2021 and beyond. The presenters help you to understand why the past year impacted the way people buy uniforms, and how you must execute the right decisions today to thrive tomorrow.
DAY: Thursday, May 20, 2021
TIME: 1:00 PM CST
COST: Free
Worker safety is a high priority. But, safety from harmful substances is often overlooked. 4-8,000 chemicals, in countless formulations, enter the apparel and footwear supply chains. Regulations vary by location and change regularly.
New technologies and scientific data make it nearly impossible for manufacturers or employers keep up. STANDARD 100 by OEKO-TEX® is an independent certification system that tests every component of the workwear for chemical substances that are harmful to health. Quality assurance checks are built into the annual certification and standards are updated regularly to stay ahead of industry and legal changes.
Products that have been completely and successfully tested are awarded the STANDARD 100 label for clear and verifiable communication.
PRESENTER
Ben Mead serves as the Managing Director of Hohenstein Institute America. In this role, he serves as the company's liaison with government agencies, industry collaborations and trade associations.
He also oversees OEKO-TEX® responsibilities for the U.S.
Prior to joining Hohenstein in 2014, Ben consulted with various brands and industry associations, including Textile Exchange and AFIRM. In those roles, Ben established partnerships with industry leaders and experts to increase industry engagement in green chemistry and sustainable textile processing.
While working for Nike, Ben helped develop a restricted substances program and was involved in the implementation of sustainable materials and water programs.
Ben holds degrees in Chemistry and Textile Chemistry from North Carolina State University and a certificate in Green Chemistry from the University of Washington.
ABOUT THE SPONSOR
Cobmex Apparel is the leading knitwear supplier to both the Corporate and Public Safety Uniform Industries in North America. Since 1998, they have met the rigorous requirements of a wide range of global brands and supplied sweaters to – retail and restaurants, police and fire, hospitality and health care, grocery and government, airlines, and more. They manufacture knitwear created for the unique demands of the uniform trade – design detailed; technically advanced. Learn about Cobmex and browse their latest STANDARD 100 by OEKO-TEX® certified Contemporary Collection.
DAY: Thursday, June 17, 2021
TIME: 1:00 PM CST
COST: Free
Studies show a direct correlation between comfort and cognitive performance.
Comfortable workwear requires holistic product development and data-based decisions. Hohenstein quantifies the workwear-human-environment interaction - specific to intended use situations.
Join us to discuss the thermal, ergonomic and skin sensory factors that enhance comfort, and therefore worker performance.
DAY: Thursday, July 15, 2021
TIME: 1:00 PM CST
COST: Free