April 16-18, 2023
at Crowne Plaza Atlanta Perimeter at Ravinia, Georgia, USA
THE NAUMD CONVENTION AND EXPOSITION
WHO ATTENDS
The association represents the entire supply chain of the uniform, image apparel and public safety equipment industries.
Our members consist of distributors, manufacturers, fabric mills and other suppliers to these companies.
Owners, executives and managers are primary attendees at the convention. So, you will meet decision makers.
HOW MANY ATTEND
We expect about 150 companies to attend. There will be 350 to 400 attendees.
We have a limit of 70 exhibit booths representing a broad range of products.
WHAT HAPPENS
The convention provides three areas of opportunity. Each morning, speakers and education sessions provide industry information and new ideas to help members manage their business.
During the afternoons, business is conducted during the exhibit hall hours with many vendors displaying new products. We purposefully plan various networking opportunities in a variety of social settings to enhance business relationships.
2023 NAUMD CONVENTION & EXPOSITION SPONSORS
Daytime Meals & Education
Become a Convention Sponsor TODAY!
Sponsorships are critical to the future of our associations and show leadership within our industry. Sponsorship benefits are highlighted below. We are happy to discuss ideas that would benefit your company.
Sponsors Receive:
May choose a specific event at the convention to sponsor
Signage at the Convention and during the event
8' Thank you Signage
3' Event Signage
Digital screens in banquet room during meals
Posted on the NAUMD websites
Posted on the Convention Mobile App
Printed in the Convention Guide
Email blasts prior to the Convention thanking Sponsors
Reserved table with guests at the Sponsored Event
Verbal Thank You at the Convention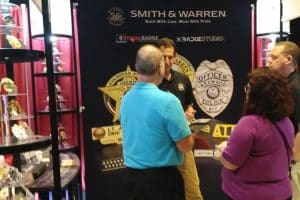 2023
Exhibitors
View a list of participating public safety, image apparel, workwear, software, sourcing, and sales exhibitors as of today.
Reserve Sponsor Or Advertising Space
CONTACT US
Let us know if you have with questions or requests:
Rick Levine
(847) 448-1333 ext 700
rick.levine@naumd.com
DOWNLOAD RATES
The following are sponsorship and advertising rates.