April 16-18, 2023
at Crowne Plaza Atlanta Perimeter at Ravinia, Georgia, USA
THE NAUMD CONVENTION AND EXPOSITION
WHO ATTENDS
The association represents the entire supply chain of the uniform, image apparel and public safety equipment industries.
Our members consist of distributors, manufacturers, fabric mills and other suppliers to these companies.
Owners, executives and managers are primary attendees at the convention. So, you will meet decision makers.
HOW MANY ATTEND
We expect about 150+ companies to attend. There will be 350 to 400 attendees.
We have a limit of 70 booths available representing a broad range of products.
WHAT HAPPENS
The convention provides three areas of opportunity. Each morning, speakers and education sessions provide industry information and new ideas to help members manage their business.
During the afternoons, business is conducted during the exhibit hall hours with many vendors displaying new products. We purposefully plan various networking opportunities in a variety of social settings to enhance business relationships.
OpportunitiesTo Promote Your Business
Exhibitor booths on the convention floor promote your products and services
Sponsorships provide a variety of ways to build your brand
Advertise in the convention guide or mobile app, weekly newsletter or the NAUMD website
Single 8' x 10' Exhibit Booth
$2,750 USD, and includes two (2) full attendee registrations
Double 8' x 20' Exhibit Booth
$4,000 USD, and includes three (3) full attendee registrations
6' Table Top Booth
$1,750 USD,  and includes one (1) full convention registration.
All booths include
All booths include draped table(s), two chairs, waste basket and company ID signage.
There is a charge of $300 for each additional company attendee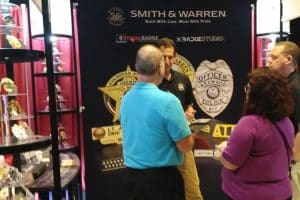 2023
Exhibitors
View a list of participating public safety, image apparel, workwear, software, sourcing, and sales exhibitors as of today.
Exhibit Hall With Enhanced Networking
The NAUMD exhibit hall features a central networking area where we provide food, beverages, and more.
Exhibitors may request a location preference. Then NAUMD staff prepare booth assignments to ensure a proper flow and spread our location of potential competitors 
CONTACT US
Let us know if you have with questions or requests:
Rick Levine
(847) 448-1333 ext 700
rick.levine@naumd.com
BOOK NOW
Use this link to reserve a booth today.