NAUMD INNOVATION AWARDS
2022 WINNERS
WINNER: 2022 OUTERWEAR
WORKWEAR OUTFITTERS
Bulwark FR Fleece Hoodie
Bulwark FR Fleece Hoodie was designed featuring the HoodShield™ integrated face covering to shield the face from the wind and cold. The HoodShield™ can be worn over the face, as a neck gaiter or stored inside the hood out of the wearer's way until it is needed. Additional features include a durable water repellent finish to keep wearers dry; reinforced forearms that add durability against abrasion; and an oversize hand warmer pocket that includes an extra hidden internal pocket for secure storage.
WINNER: 2022 BRANDING
Superior Group of Companies
CID Resources
WonderWink Branding
Medical scrubs sold through retail channels have a massive array of choices within and across brands. The WonderWInk unified branding program provides clarity with effective communication of multiple product dimensions through on garment branding and labels as well as SKU-specific digital content. WonderWink embarked upon a unified branding program in late 2021 to focus retail customers and end consumers on the WonderWink master brand. The new branding program utilizes an industry-first "progressive app", integrating all product lines, sub-brands and the multitude of fabrication choices, fit/size variations and features across the WonderWink offering.
WINNER: 2022 BADGES
SMITH & WARREN
Birmingham Alabama Police Department
Representatives from the Birmingham PD worked with the Smith & Warren design team to capture the important elements of their city and community. Using hand sketching, vector art, 3D photo-realistic modeling and laser design cutting, Smith & Warren created a custom badge with a recreation of the Birmingham city skyline and iconic buildings.
WINNER: 2022 DECORATION
PENN EMBLEM
PVC emblems for Delaware Valley Sports Center
DVSC is a public gun range and pro shop used by law enforcement officials for training and practice. The goal for this branding endeavor was to create a logo that not only depicted the company's identity, but also elicited a sense of durability, reliability, and excitement. PVC emblems are designed in 3D, providing an embossed, dimensional aspect while still offering a smooth surface, therefore delivering a sensory experience for consumers. PVC emblems never fade, crack or peel, maintaining clarity and detail. Utilizing a custom mold, any branding ideas can be created, which is how Penn Emblem achieved the desired look for its customer. 
WINNER: 2022 MANUFACTURING
Logistik Unicorp, Wintex
Made in Germany Level 2 Face Masks
Many companies entered into the mask making business in 2020 and 2021 using imported machinery from existing machine companies. But Wintex designed, created and made their own machinery in their home county of Germany. In a matter of only a few months, they had the factory and in-house testing facilities operational; creating 120 jobs and achieving the highest levels of certification. The actual masks are FFP2 (N95) with 5-layer construction ensuring 97% of all particles and aerosols are filtered out. They are certified in Germany as DIN EN 149, the respiratory protective device standard for Germany.
WINNER: 2022 DIGITAL SERVICE
INVISTA CORDURA Brand
CORDURA(R) Fabric Finder
CORDURA® Fabric Finder has been created to increase accessibility to the brand fabrics while building a digital fabric partner community for an industry adapting to a changing world and the challenges of COVID-19. With an easy-to-use digital interface, the library improves the possibilities for certified CORDURA® fabrics to be accessed for a wide range of commercial products. This collaborative platform provides CORDURA® strategic partner mills with a showcase for their newest collections, award-winning fabrics and sustainable innovations. It also creates a virtual space for designers and makers to connect directly with the CORDURA® team.
WINNER: 2022 BADGES
Blackinton
US Marshall WITSEC
The WITSEC (Witness Security Program) division of the US Marshall required the central phoenix design of its new badge to appear to be rising from ashes. A single color cannot achieve this affect; colors in gradient were required. With experience in commercial-grade digital printing and surface coatings, Blackinton became the manufacturer to provide the solution. They deployed its their proprietary digital "unlimited coloring" method to achieve the desired look.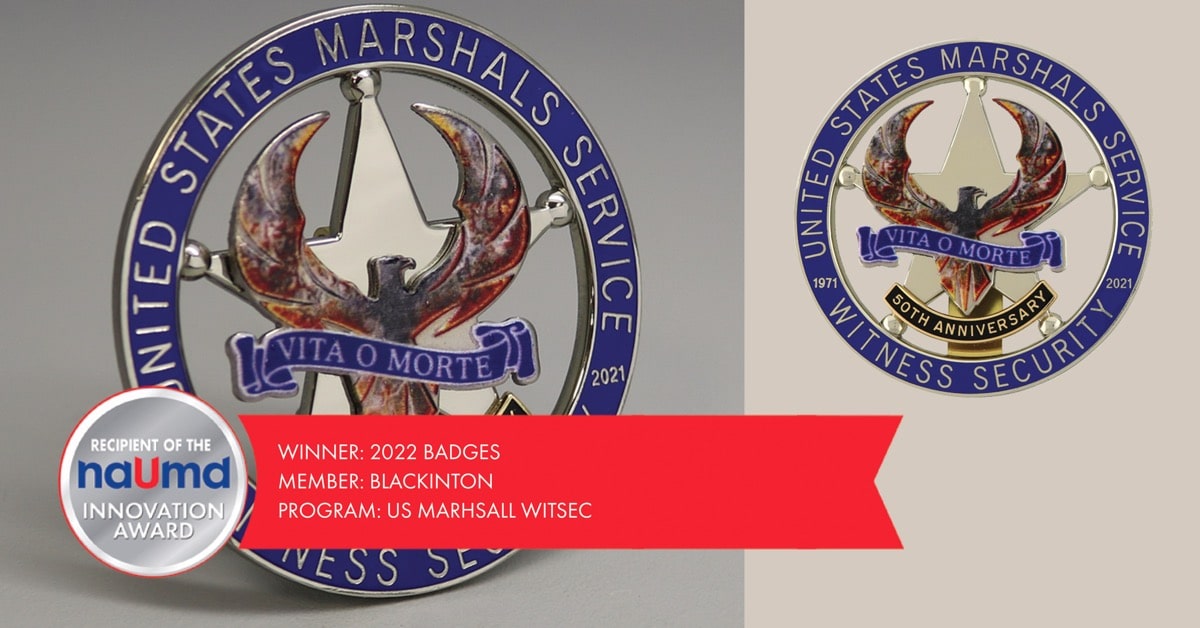 WINNER: 2022 SOFTWARE
Exenta from Aptean
Aptean Shopfloor Control
Exenta from Aptean Shopfloor Control is a real-time manufacturing execution system designed specifically for the production of uniforms and other apparel or sewn goods. The software delivers a unique solution, giving up-to-the minute visibility into WIP and helping to identify and eliminate production bottlenecks. The solution also automates incentive payroll calculations, replacing manual processes that are both time-consuming and error prone. It provides immediate performance feedback on efficiency and quality to operators and managers, resulting in increased production and improved quality of finished goods.
WINNER: 2022 GARMENT COMFORT
COBMEX
COBMEX®'s Contemporary Collection
COBMEX®'s Contemporary Collection is a modern take on corporate knitwear. The design team researched runway trends as well as the needs of corporate employees to build products that employees would want to wear, resulting in specific fibers and a lightweight knit construction that would give garments a retail hand without compromising durability. Updating the fit was also a priority, slimmer silhouettes and unique design details highlight the contemporary aspect of the collection. Additionally, every component used must meet the testing process conducted by independent OEKO-TEX® partner institutes and is based on the widely recognized OEKO-TEX® criteria catalog.
WINNER: 2022 FABRIC
Carrington Textiles
Carrington Textiles' Hawksbill and Orca
Hawksbill and Orca are the first workwear fabrics with a polyester that biodegrades. Following extensive research, the company adopted the CiCLO technology, a sustainable textiles ingredient in the form of an additive that is combined with polyester at the very beginning of the fiber making process. When CiCLO polyester ends up in the environment either through washing or end of life of the garment, it behaves like natural fibers, in turn reducing microplastic pollution and textile accumulation.
WINNER: 2022 TECHNOLOGY
BODIDATA
Kora Scanner
Kora is the only handheld scanner able to capture an individual's body measurements beneath their clothing, while they are wearing everyday street clothes. Using both optical and radar sensors, the Kora scanner creates a digital cloud of the body underneath the clothing and captures every measurement and curve of a fully clothed person's body. There are no pictures or videos and every scan is anonymous and unrecognizable. Kora integrates with BodiData's Mobile App and can be used to pre-register uniform wearers for sizing events which will help speed up the process and keeps personal information even more private.
WINNER: 2022 GARMENT FUNCTION
WORKWEAR OUTFITTERS
Red Kap's Performance Work Hoodie with SafeCinch™
Red Kap's performance work hoodie with SafeCinch™ combines patented, innovative functionality with first-to-market, IL-friendly durable water repellency fleece fabric that maintains the expected breathability of a traditional workwear fleece. Hidden drawstrings run through channels down the front placket of the hoodie and are tucked away in front pockets, eliminating loose strings and safety hazards. Plus, this innovative functionality offers a neater appearance and easier laundering.
WINNER: 2022 FOOTWEAR
5.11 TACTICAL
A/T™ 8 HD Boot
Staying in the fight requires staying on your feet, and the boot created by 5.11 brings all the features demanded in tactical footwear and adds touches rarely seen in a professional boot. The perforated tongue adds breathability and air flow. A heat-reflective strobel sock reflects heat from pavement and concrete away while a new, infrared refracting leather drops surface temperature. The heat-reflective strobel sock is built into the boot, working as an additional layer of protection along with the infrared refracting leather. While these features function to reduce foot temperatures independently, combining the two in one boot gives better comfort and sustainability to the wearer.