NAUMD IMAGE OF THE YEAR® AWARDS
2022 WINNERS
BEST OF THE BEST WINNER &
WINNER: TRANSPORTATION: Aviation
Unisync Group Limited
WestJet
The collection was designed in collaboration with Juli Grbac and manufactured/distributed by Unisync. The new collection includes pieces for the workgroups of pilots, flight attendants,airport agents and the lounge. The collection is also certified to STANDARD 100 by OEKO-TEX®, the highest industry standard for safety. WestJet is the first Canadian airline to achieve this certification. The airline's old program required all suiting pieces to be drycleaned, a costly and inconvenient option for end users. Unisync developed a Poly/Wool/Lycra/Anti-static fabric that utilized mercerized wool to allow for the fabric to withstand home laundering. Every suiting piece in the program (except the blazer) has been extensively tested to ensure the garments maintain their shape, durability, color and function over an extended life of home laundering.
WINNER: RETAIL: Automotive Dealerships
Workwear Outfitters
Mopar Dealership Apparel Program
Design, performance, and technology are hard at work in the new improved Mopar Dealership apparel program from Workwear Outfitters. Worn by more than 60,000 auto technicians, service advisors and porters, the program has the latest and greatest in features including Red Kap's exclusive OilBlok Technology, exclusive Lightweight Ripstop fabric, and ZeroskratchTM covered snaps and stretch mesh panels. The work environment is high soil and dirty. Technology incorporated into the fabric repels the toughest auto fluids, including oil, keeping shirts looking newer for longer. Flex stretch panels offer improved mobility and breathability. Finally, strategically designed covered snaps keep paint jobs protected - part of the ZeroSkratchTM collection of worry-free workwear.
WINNER: ENTERTAINMENT: Amusement Parks
Universal Orlando
Resort Jurassic World VelociCoaster
Jurassic World VelociCoaster opened at Universal Orlando Resort's Islands of Adventure theme park in 2021, unleashing Florida's fastest, tallest and most intense launch coaster ever created, catapulting riders 155 feet into the air at extreme speeds up to 70 mph. Guards are easily identifiable as they are dressed in two- tone gray tactical attire branded with the Jurassic World logo. And to keep Guards ready for anything that might happen, the wardrobe was designed for action. The wardrobe items are made with moisture wicking, mechanical stretch fabric in two weights; light weight for the tactical shirts and cadet caps while mid-weight was utilized for the cargo bottoms and winter jacket. Summer options include unisex cargo shorts, male/female short sleeves, and cadet caps. The spring or fall and maternity options feature unisex cargo pants and male/female long sleeves with roll-tabs, and the cadet caps. For winter – yes, it gets cold in Florida too – there's an additional tactical jacket that lined with Thinsulate.
WINNER: RESTAURANTS & FOOD SERVICE: Quick Service Restaurants
Unisync Group Limited
Tim Hortons
Tim Hortons serves coffee, doughnuts, and other fast-food items. It is Canada's largest quick-service restaurant chain, with 5,000+ restaurants in 14 countries and over 100,000 uniformed employees. One of the main objectives for the program in the design process was to identify how to make the new uniforms present a more "Canadiana" feel to its customers. It was this desire that led to the addition of the red plaid being used as an accent and pop of color. This red and black checkered pattern is called "buffalo plaid" and it came to Canada from Scotland. The program consists of 100% fully custom produced styles. Options include short sleeve polos, flat front pants, full zip sweater, baker's chef jacket, a winter jacket and visors and caps.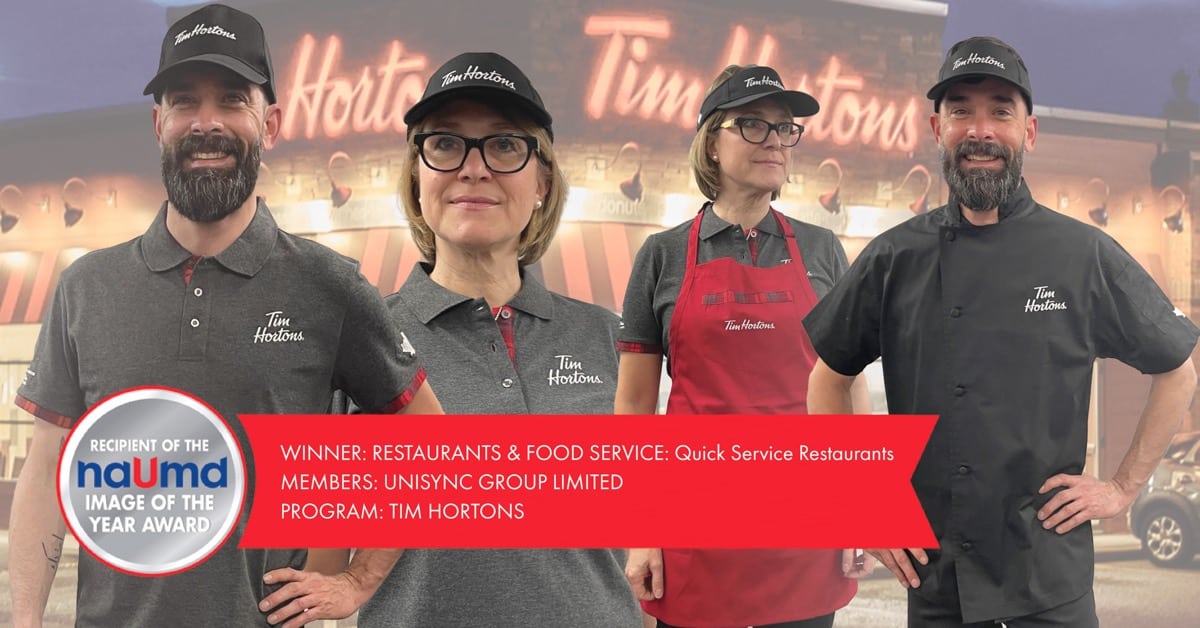 WINNER: 2022 HEALTHCARE
Design Collective by Cintas
Sabanera Health
Sabanera Health is a new medical center that aspires to be the most comprehensive facility on the island of Puerto Rico. Their apparel program was created by celebrity designer Nono Maldonado and Design Collective, and covers over 200 wearers for the front of house operations and a collection of scrubs for the clinical and industrial back of house functions. Cintas was asked to create a program that incorporated soft lines, light colors and a modern fit for the garments. To achieve the right look they avoided anything too dark or dreary and incorporated as much white as possible without leaning too clinical. Happy colors were used throughout to coordinate with the bright accents found in the interiors, while soft silhouettes such as Saint Laurent-inspired bow blouses added a feminine touch. Scrubs were made with all the comfort, performance, technology, and pockets so that healthcare workers could be at their best.
WINNER: SERVICES: Construction
Unisync Group Limited
TELUS
The TELUS service apparel program outfits more than 3,500 service technicians. The apparel program outfits each employee with all required garments for their job, including polo shirts, woven shirts, layering pieces, outwear, headwear, and much more. At the heart of the branding is the TELUS logo. Utilizing light and dark grays as the base color on all the garments and the use of the vibrant TELUS purple pantone as an accent provided just the right amount of pop to the uniforms. One of the defining design features is the custom Gingham check that was developed for the management woven shirts. Utilizing the TELUS purple pantone and a TELUS tab along the pocket, the shirts transformed from an industrial style shirt to a much more professional look.
WINNER: 2022 ENTERTAINMENT: Casinos
Design Collective by Cintas
Spotlight 29 Casino
Know your customer. That is the message behind the new Spotlight 29 Casino apparel program. Spotlight was in dire need of new apparel and wanted items in a hurry. Though use of its signature express and stock options, Cintas was able to offer immediate solutions. It's a comprehensive program and includes wear for all employee positions found at a casino, from dealers, to cocktail service to housekeeping and landscapers. Custom garments are used for the Usher program as the client was looking for a lightweight shirt/blouse with easy visibility for guests to recognize during events. The Spotlight 29 emblem is used extensively to reinforce the brand.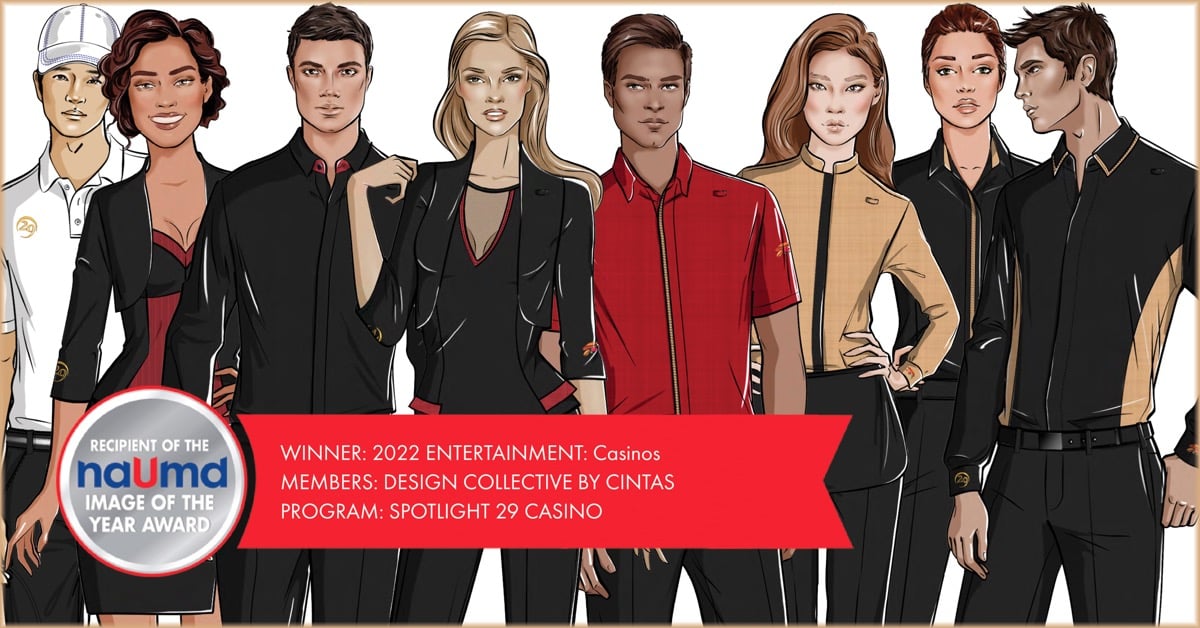 WINNER: RETAIL: Grocery Stores
Unisync Group Limited
Shoppers Drug Mart
Shoppers Drug Mart is a Canadian retail pharmacy chain based in Toronto, Ontario. It has more than 1,300 stores in nine provinces/two territories and over 50,000+ employees. The collection created by Unisync includes short sleeve polos, full zip sweater, woven dress shirts, and the program's centerpiece, a high-quality pharmacist lab jacket. Pharmacists, who are the store owners, wanted a garment that was bright white, with a soft luxurious feel. Unisync selected a brushed cotton/poly blended fabric to create a softer feel and increased the fabric weight to over 240 grams per square meter to give a sturdier, more structured look to jacket. The fabric PH level was also closely monitored and controlled to manage the risk of jacket turning yellow over time while on the shelf.
WINNER: 2022 SAFETY & INDUSTRIAL: High Visibility
Aramark Uniform Corp
Sysco
Sysco is the global leader in selling, marketing, and distributing food and non-food products. Safety is a top concern at Sysco, and a major component of the uniform concept designed by Aramark. Aramark developed a program that incorporates the need for safety, brand image and a professional appearance into one easy-to-wear and care for polo. It utilizes a fabric that performs in harsh environments and is light weight, moisture wicking and breathable. The design meets ANSI/ISEA 107-2020 Type O, Class 1 requirements without moving too far away from the Sysco colors and brand. Complementing sweatshirts and jackets are also in the uniform program.
WINNER: MANUFACTURING: Technology
Unisync Group Limited
BELL
The Bell Canada retail program outfits over 5000 wearers in where managers, and retail staff now wear the same uniforms, where in past there was a specific uniform for each role. The technology industry is increasingly casual, and as such this approachable, casual T shirt program designed by Unisync has met the company brand and industry trend in that area. The T shirt program for Bell utilizes a single knit jersey in 65% polyester, 35% cotton. This fabric comes from China, and the product is sewn in Canada to provide a manufactured in Canada product. Embellishments utilize the digital printing process for maximum durability and are printed prior to finishing the seam on the sleeve to achieve the unique sliced logo look that the Bell brand was targeting. And the maternity T shirt is a big hit with employees, as it eliminates a 'tent" like appearance yet creates the additional ease needed in such wear.
WINNER: EDUCATION
Superior Group of Companies
National Aviation Academy
The National Aviation Academy (NAA) offers a comprehensive curriculum composed of coursework and hands-on training. Uniforms are included in the cost of tuition and feature a hanger t-shirt, 5 cap options, AMT Program Custom Woven Shirt, AMP Program Custom Polo Shirt, and Custom Moto jacket. Superior Group of Companies manufactured the shirts using a ripstop, one hundred percent poly fabric that is moisture wicking, durable, and light weight. The introduction of mesh side panels allows for freedom of movement and breathability, which the creative use of reflective tape offers increased visibility as well as a unique aesthetic enhancement. The whimsical moto jacket has become an end user favorite. Reminiscent of a motorcycle racing jacket, the piece is colored in red and black, and includes reflective shoulder tape and adjustable cuff.
WINNER: 2022 TRANSPORTATION: SHIPPING & DELIVERY
Aramark Uniform Corp
Iron Mountain Driver Program
Iron Mountain Incorporated is the global leader for storage and information management services. The company recently went through a corporate branding and needed uniforms for their Transportation and Operations teams that reflected the new brand. Enter Aramark, who designed the winning look, a uniform solution for nearly 6,500 wearers. The uniform program consists of a variety of different pieces centered around a core item —a polo constructed of lightweight piqué for a comfortable, lightweight feel. Other pieces in the program include t-shirts in both navy and high-visibility yellow, outerwear of different weights, pants in an assortment of fits (including women!), wide brimmed hats for sun protection or knit hats for cool climates, and pants made to move with the wearer. Finally, the use of reflective tape/piping around the body and arms provides 360 view visibility in low light conditions for an added measure of safety.
WINNER: SERVICES: Car Rental
Mi Hub
Hertz Corporate
Mi Hub provides uniforms for approximately 27,000 corporate and franchisee employees across a portfolio of Hertz Corporate rental car brands. The program was created with an inside and outside collection to address the work environments for the employee groups. The Inside Collection includes woven shirts that are worn tucked in with an additional soft knit blouse style; the Outside Collection features woven shirts to be worn untucked. After the initial rollout, Hertz redirected their brand approach to bring focus back to their iconic yellow. Mi Hub then introduced a uniform refresh for Hertz and Dollar Thrifty Group to pull in the brand colors. The Dollar Thrifty brand direction shifted from being separate with red representing Dollar and blue representing Thrifty to one singular representation with uniforms. The resultant look brings color back into the Hertz Corporate uniforms and seamlessly tie two brands, Dollar and Thrifty, as one.
WINNER: RESTAURANTS & FOOD SERVICE: Single Location
Luly Yang Design Group
Climate Pledge Arena – Lounges
Luly Yang created an elegant and sustainably-minded uniform collection inspired by the silhouettes and architectural features of Seattle's iconic cityscape. The collection features tailored pants, vests, button-up shirts, blazers, dresses and aprons for the arena's two exclusive lounges, all made with 80 percent recycled materials — aligning with the mission of the Climate Pledge Arena, which aims to be the first carbon zero arena in the world. During the design process, Yang referenced the iconic 1962 Key Arena (now CPA) and Seattle's famous Space Needle with details like peplums and Y-shaped angles reflecting the historic buttresses of the arena.
WINNER: 2022 RETAIL: Banks
Lands' End Business Outfitters
Chase Style Program
ESSENCE, Chase, and Lands' End Business Outfitters partnered to present Banking on Style (BOS) as an avenue to empower Black entrepreneurial fashion designers and take their brands to the next level. The focus of this important collaboration was to create new professional styles within the Chase Style, the collection that Chase bankers can integrate into their work wardrobe. Three Black designers competed for the chance to have their work featured in the 2021 collection, with the winner also receiving a monetary prize. Due to the COVID-19 pandemic, the designers presented their work virtually. Judges determined the winner based on the fashion concept and how the collection would fit into Chase's current uniform collection. The winning designer, Deidre Jefferies, was cited for her attention to detail and fascination with blending classic and modern designs in a range of new and exclusive styles for Chase.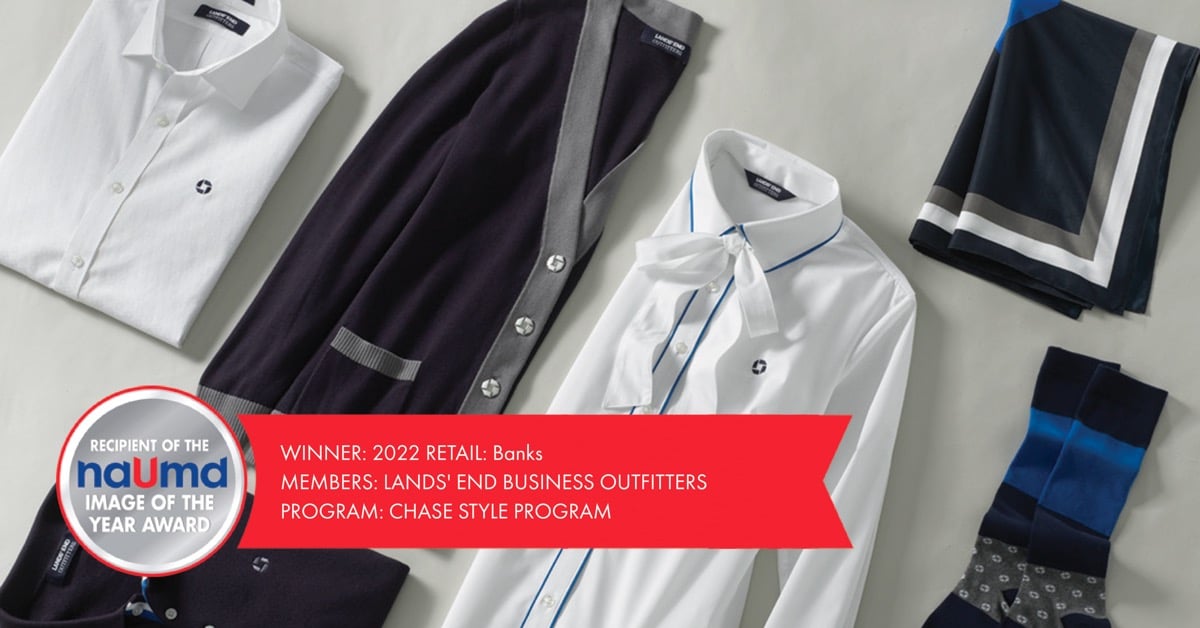 WINNER: 2022 TRANSPORTATION: Train & Rail
GALLS
Keolis
Keolis Commuter Services operates and maintains the Massachusetts Bay Transportation Authority's commuter rail system. Keolis employs over 2,000 individuals; 650 are uniformed service delivery customer-facing staff. Keolis worked with Gall's to develop a new professional and stylish look for uniforms, outerwear, and footwear. End users have several shirt options, each colored in gray and emblazoned with the Keolis logo. Uniforms needed to be available in a large range of sizes with maternity wear as appropriate. The garments were also needed in a hurry and Galls was able to accomplish this by using a web-based system that allowed employees to place, track and receive their orders.
WINNER: 2022 SAFETY & INDUSTRIAL: Flame Resistant
Design Collective by Cintas
Pioneer
Pioneer operates as an oil and gas exploration and production company. There are 1304 uniform wearers that fall under a variety of job categories. The Pioneer Flame Resistant Clothing Collection is a mix and match wardrobe offering. Goals were to have a variety of apparel items that would meet the needs from a safety, style and brand perspective. The use of various brands such as Ariat and Carhartt ensures those goals were met. Highlights include Ariat FR jeans and a patterned button-down shirt emblazoned with the Pioneer logo.