NAUMD BEST DRESSED
PUBLIC SAFETY AWARDS
2022 WINNERS
WINNER: POLICE & SHERIFF: Park Rangers
WITMER PUBLIC SAFETY
Chester County Parks + Preservation
Chester County Park Rangers work outdoors in extreme weather conditions for long periods of time, therefore comfort and functionality are a high priority. The department had two main priorities: the look needed to emulate the classic, easily identifiable universal brand of the American park ranger. Witmer achieved this by utilizing a dress and patrol uniform that works together, topped with a flat hat or cap. The switch from an internal to an external ballistic vest not only improved appearance, but provided better comfort to those who were on long patrols in extreme weather.
WINNER: POLICE & SHERIFF: Highway Patrol
Spiewak
Colorado State Patrol
The CSP Uniform program consists of multiple options available to all troopers. Uniforms include Class A, B, and Class C. There are also several outerwear options. A reversible hi vis ANSI softshell Jacket/Liner is windproof, waterproof, and breathable. Colored in black, the jacket has two standard vertical front pockets and two zippered, chest pockets. The Vizguard two-tone response ANSI parka has a breathable drop-in hood, functional pit zips and front and back rain shed yokes with mesh lining for increased air flow.
WINNER: POLICE & SHERIFF: Large Department
Spiewak
Arizona Department of Public Safety
The AZDPS uniform program consists of multiple options available to all troopers. For the first time in AZDPS history they have added a black stripe to their trouser for a more distinctive appearance. Each uniform option maintains a consistent and professional appearance. The program includes both a Class A and B uniform with many features. Spiewak used a new fabrication consisting of 74% Polyester/ 24% Wool/ and 2% Lycra, giving the garments additional stretch and comfort, high pill rate and easy care.
WINNER: EMERGENCY SERVICE: Emergency Medical Response
Logistik Unicorp
Urgences-Sante
This is a hard-working uniform for a hard working emergency unit. The garments are adapted with the necessary details needed in order to perform the various functions of the job of a paramedic. For example, paramedics require identifications and high tech fabrics that have special finishes for enhanced breathability, anti-bacterial and stain resistance. There is a PTFF finish on the lining of the knees that works like an invisible shield for clothes and other fabrics. All reflective materials are 3M™ Scotchlite™ CSA Z96-15 approved high visibility safety trim. Reflective material is made with premium materials and offers one of the brightest reflective products in the industry for safety and visibility.
WINNER: POLICE & SHERIFF: Bike Patrols
Logistik Unicorp
Terrebonne Police
Police of Terrebonne has 200 officers. Terrebonne is a city located Northeast of Montreal. They were looking to refresh their bike patrol uniforms. The requirement was to dress this unit with a lightweight, breathable uniform while also giving them visibility. The program consists of 4 different garments. A hi-visibility jacket, a two tones polo shirt, a 3XDRY t-shirt and a stretch bike-pant that easily converts to shorts. The jacket and polo are decorated with shoulder crests and reflective lettering to give a better visibility at night.
WINNER: POLICE & SHERIFF: Tactical SWAT
Logistik Unicorp, ADA
NSW, Australia Police Public Order Squad, New South Wales, Australia
Responding to the needs of a specialist division within Australia's largest Police Force, ADA, a division of Logistik, created a new concept and approach to uniform solutions. The uniform was developed to act as platform for a larger system by functionally testing each item issued for an officer's personal use and considered for broader integration. The solution resulted in a uniform that enabled its user to perform tasks with more ease and less risk. Worn by 6,000 members, this uniform is highly technical and included many features to support a high-performance end user with a unique requirement. The solution utilized integrated knee pads, multi pocket systems, waist band adjusters, padded waistband, knee height adjuster, reinforced seat patch and internal elastic in pockets to secure items for the trouser. Shirts had a zip front, comfort knit body, structured sleeves, and integrated elbow pads. 
WINNER: POLICE & SHERIFF: K9 Unit
Galls
Lancaster Police Department, Kentucky USA
Lancaster PD has apparel for its command staff and patrol, as well as specialized wear for the PTU, K9 Unit and Bike Patrol. The Class A is an all-polyester uniform manufactured by Flying Cross. Command staff are distinguished by gold hardware with rank insignia displayed on the collar of the blouse and the epaulets of the coat. Sergeants wear corresponding chevrons on their sleeves. Patrol officers wear the same uniforms with silver hardware, LPD collar insignia and gray stripe on the pants. K9 handlers wear the 5.11 police tactical class A uniform, a poly-cotton blend with embroidered badge, name and LPD insignias. Bike unit officers wear 5.11 yellow police bike patrol polos with embroidered badges and police screen printing on the back.
WINNER: EMERGENCY SERVICES: Large Fire House
GALLS
DC FIRE and EMS
Safety and comfort are at the forefront of this program. Station wear manufactured by Crew Boss with Tecasafe Plus provide fibers that contain Active Moisture Management. The uniform is comfortable, hypoallergenic, easy to wear, and more durable than chemically treated FR fabrics. Inherently flame-resistant, the protection comes "built in" and will never wash or wear out. The dress uniform is manufactured by Fechheimer, with custom single breast and double breast dress coat, pant, and shirt. Custom tailored to meet agency needs, the double and single breasted dress coat is made of 55%polyester and 45%wool. The jacket comes fully lined and comes with gilt FD buttons, although the agency uses custom button that are applied at Muscatellos, a part of Galls. 
WINNER: POLICE & SHERIFF: Motorcycle
GALLS
Charlotte Mecklenburg Police Department
This department utilizes several different types of wear. Made of a poly/wool tropical weave and manufactured by Fechheimer, the Class A uniform is the everyday uniform for command staff and can also be worn by patrol officers. The Class B duty uniform is also from Fechhiemer and includes components from the newly released Cross FX S.T.A.T line. The uniform incorporates much desired stretch into the fabric and is durable for everyday wear achieving functionality and clean crisp look. Duty gear is leather and nylon, and is manufactured by Gould & Goodrich; outerwear is supplied by Gerber. The department's everyday duty jacket is their Spartan 3 in 1 jacket; the outer shell and softshell can be worn combined or independently.
WINNER: GOVERNMENT: Department of Treasury
GALLS
Bureau of Engraving & Printing Police
The BEP mission is to develop and produce United States currency notes. The BEP prints billions of dollars - referred to as Federal Reserve notes - each year for delivery to the Federal Reserve System. The Bureau also operates a police department, the Bureau of Engraving and Printing Police Force, that protects BEP personnel and facilities. Class A poly/wool uniforms are the hallmark of this department. Garments are colored in blue, and a light blue stripe appears on the pantleg. Small design features such as pen pockets on the chest and reflective elements on the sleeves add safety and function to this professional look.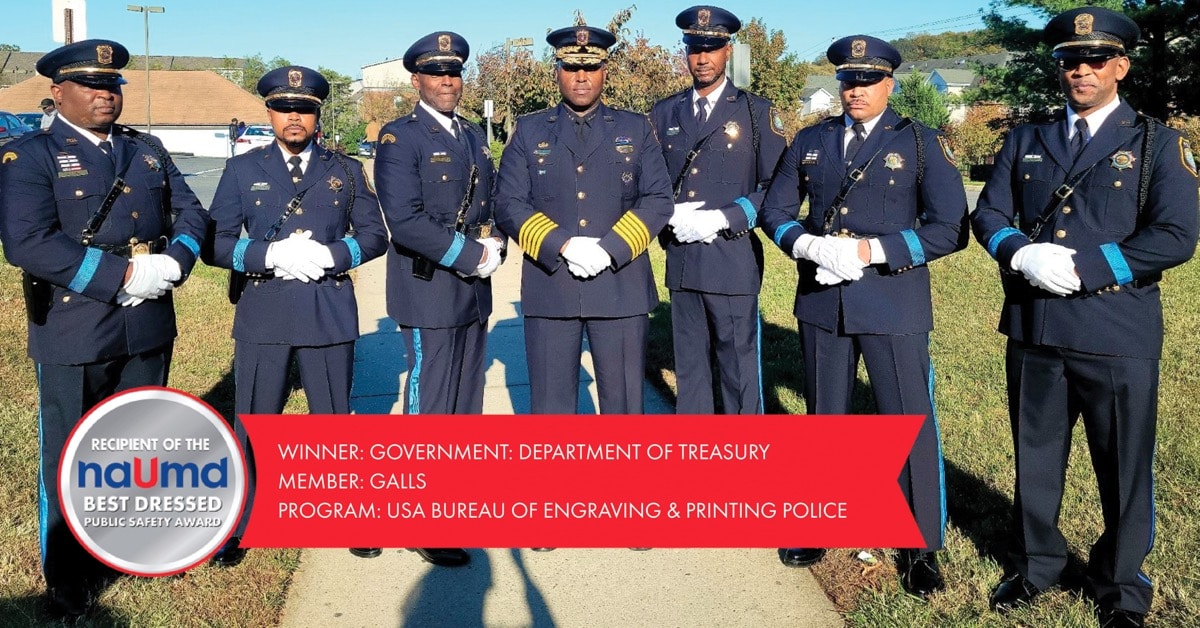 WINNER: 2022 GOVERNMENT: ARMY
Fechheimer
US Army
Uniform began in the spring of 2017, and on Veterans' Day the Army officially announced that the AGSU would be the new service dress uniform for all soldiers. The uniform is a take on the Eisenhower era uniforms commonly known as "Pinks and Greens". The olive green AGSU has come to replace the current 'army blue' Army Service Uniform (ASU) in the 'Class A' and 'Class B' dress uniform roles. The AGSU program is comprised of trousers/slacks, shirt, and dress coats, both men's and women's, an all-weather coat, dress tie and socks, gloves and other insignia and accessories. The unique challenge for creating the AGSU was merging modern fabric and tailoring. Functionality and comfort took precedent in the design, including a premium lining in the dress coat and detachable elements for comfort; design and pattern shaping to enhance comfort, permanent crease technology in the trousers and slacks, non-slip technology in the waistband, and soil and stain technology for easy care. 
WINNER: 2022 POLICE & SHERIFF: Honor Guard
Fechheimer
Collier County Sheriff, Florida, USA
Honor Guard uniforms for Collier County's are colored in gray, a shade not often associated with such units. The department wears a gray dress coat, and gray pants striped with gold. A campaign hat completes this very polished look. The current uniform is 100% polyester, a budget-friendly item that will allow the garments to look their best for many years. However, the fabric does have its limitations, and Flying Cross is working to deliver to the department options that offer better functionality and breathability. 
WINNER: 2022 POLICE & SHERIFF: Small Department
CAPLANS
Rapides Parish Sheriff's Office, Louisiana, USA
With help from Caplan's, RPSO upgraded their officers to the FlexRS line from Blauer. While the styling is similar, there are several important enhancements to the uniform program. First is the moisture management fabric, an improvement that allows officers to stay cool and dry, even in Louisiana. Most importantly, the new uniforms include a MOLLE option, a system often requested from officers who suffer from back and hip issues due to the weight of the duty belt. With the FlexRS vest carrier, officers are able to take the load off their back and put it on their chest and have a more balanced load.