NAUMD IMAGE OF THE YEAR® AWARDS
2021 WINNERS
Image Of The Year - Gaming

MEMBER: Design Collective By Cintas

PROGRAM: Resort's World
Resort's World is the first integrated resort (hotel, casino, entertainment, convention/exhibit center) to be built on the Las Vegas Strip in over a decade. This property was opened in late June and currently has 3,200 wearers.
Casino floor uniforms are in cool hues of blue to coordinate with the interiors of the space. They are simplistic and sophisticated, with mandarin collars to pay homage to the Asian culture. Cocktail dresses are uniquely designed to make an iconic statement on the property.
Image Of The Year - Hotels, Single Location

MEMBER: JA Uniforms

PROGRAM: Bungalows Key Largo
Luxury, elegance and exclusivity define the Bungalows brand. Customer satisfaction is highly influenced by employee enthusiasm and comfort which is supported by uniforms that are not only elegant but comfortable to wear in Bungalow's tropical environment.
Climate played a big role in the creation of this program. Performance, light weight fabrics in light colors that don't draw heat and closely related to the sun, sea and earth were of focus. No expense was spared regarding fishing shirts, performance fabrics, custom polo prints and custom pants to keep every staff member looking light and clean as well as feeling cool.
Image Of The Year - Hotels, Multiple Locations

MEMBER: Design Collective by Cintas

PROGRAM: Margaritaville
Parrot heads, take note: you may never be accused of being well dressed, but your hotel of choice surely is. Margaritaville is a state of mind. It's a place you can escape, relax, and be yourself. It's a casual and comfortable atmosphere but still upscale.
The wardrobe addresses every job area in the hotel – from Guest Arrivals and Front Desk to Engineering and Housekeeping. Much of the Margaritaville Hotels & Resorts portfolio is in warm weather areas. It is a casual chic collection that is easy to wear and composed of small wardrobes in each job area. This not only gives hotels different choices based on their location, but also allows the wearers to feel like they were wearing something out of their closet. Garments and colors were strategically selected/paired so that there was no wrong combination.
Image Of The Year - Restaurants, Multiple Locations

MEMBER: Twin Hill

PROGRAM: McDonalds
The new McDonald's crew program is the evolution of the 2017 program offering a fresh, modern look that was designed to support McDonald's leadership as a modern progressive brand. The program, worn by 700,000 crew employees is comprised of performance fabrics and t-shirts that offer the comfort, moveability and durability required when working in a busy quick-service restaurant environment.
The program is a more casual range, comprised of a graphic T-shirt, polos and a T-shirts made from performance fabrics, a maintenance polo with reflectivity for safety, and stylish denim jeans with stretch for ease of movement. To compliment the collection, accessories include a stretch mesh denim hat and visor as well as a denim hat and visor and a denim apron.
Image Of The Year - Restaurants, Single Location

MEMBER: Design Collective by Cintas

PROGRAM: Fairmont Royal York Library Bar
Fairmont Royal York is a large historic luxury hotel in downtown Toronto. The Library Bar, for which this program has been designed, is an upscale bar environment offering large selections of specialty drinks and sophisticated light food menu. It's being operated by 25 employees. The positions include Hosts, AM & PM Servers, Bartenders, and Bussers.
The hotel wanted to convey an upscale English Pub feeling with a modern, elegant feel and a nod to the British fondness of tailoring. There are blazers with peak lapels subtly trimmed with a contrast color. Pants were cut slim; dresses were well tailored to the body.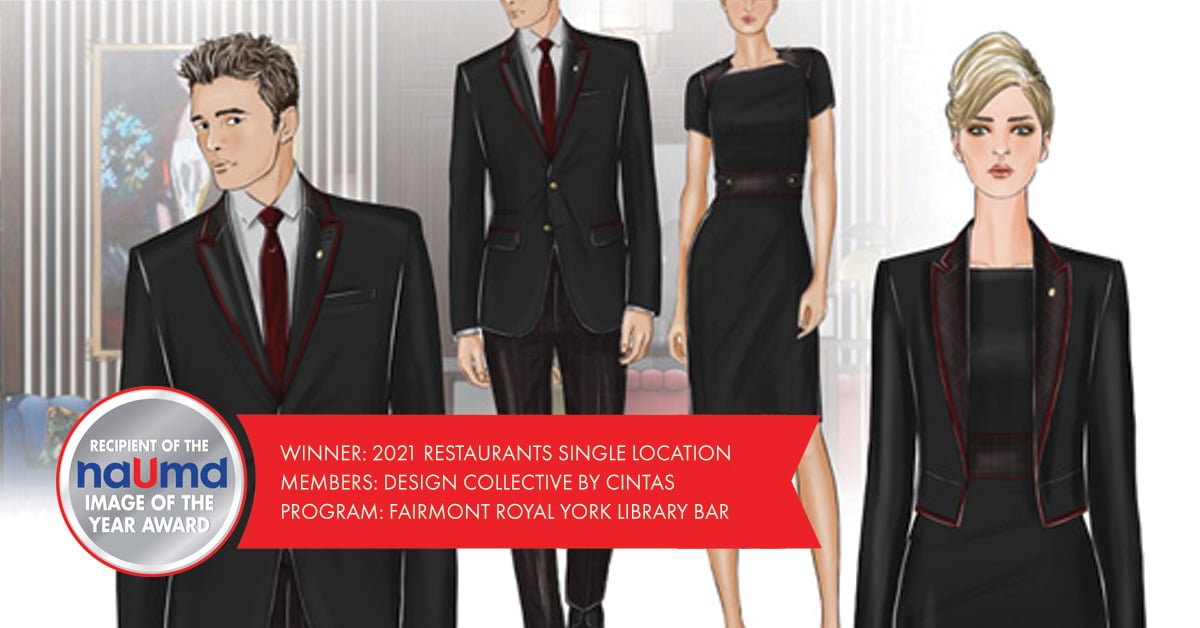 Image Of The Year - Transportatiom, Products

MEMBER: Luly Yang Couture

PROGRAM: Amazon
Amazon headquarters reached out to Luly to design, develop and deliver a custom uniform collection … within three months! In true Prime speed, the collection was designed, approved, manufactured and distributed to Amazon drivers in North America within a few months and worldwide in under a year.
Yang's designs and attention to detail are proof that a uniform serves a purpose greater than utility. Clothing should feel almost like a second skin — comfortable and practical. But it should also give its wearers the confidence to come to work as their proudest and most authentic selves. The collection makes good use of Amazon's brand colors – Prime Blue and Ink Grey – and performs double duty as a safety feature for the delivery personnel.
Image Of The Year - Service

MEMBER: Twin Hill

PROGRAM: Mary Kay
The Mary Kay Red Jacket Program, one of Mary Kay's iconic corporate wear collections, is a three-year program consisting of 32,000 wearers. These individuals earn the privilege to wear their choice of one of the distinguished jackets offered in the program by being in the top 6% of all Mary Kay Independent Beauty Consultants.
Each Red Jacket is designed with the red color story remaining constant, but the cuts, fits, and details differ within each style, allowing for the recipients to select a jacket that makes them feel empowered, beautiful, and in control of her business.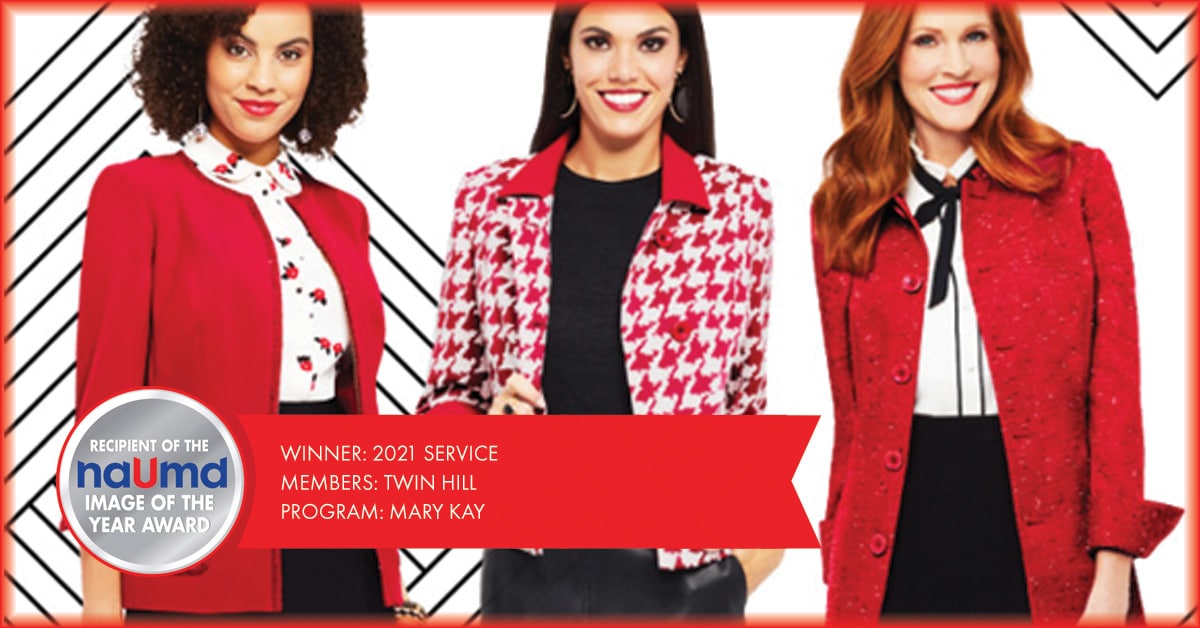 Image Of The Year - Transportation

MEMBER: Design Collective by Cintas

PROGRAM: Virgin Voyages
Design Collective by Cintas partnered with the designer Gareth Pugh to produce this winning look from 2021's Image of the Year Awards®. The apparel program for Virgin Voyages included all areas of the vessel, including front and back of house, officers, hotel leadership and the culinary program. Each area's collection was thoughtfully designed to represent the environment in which the wearer worked, and the job functions expected from each of the 1,200 crew members on each ship.
Virgin Voyages collection embodies the company's culture and brand essence, with an iconic color palette and brand elements throughout the designs. It embodies the romance of sailing, incorporating nautical elements with fun, modern details – including the Virgin "V". Integrating Virgin Voyages' partnership with PLAE shoes was also important, and pulled all the looks together cohesively while factoring in the crew's comfort and safety.
Image Of The Year - Entertainment Venue

MEMBER: Design Collective by Cintas

PROGRAM: FC Cincinnatti
FC Cincinnati is a soccer club located in TQL Stadium. Approximately 1000 wearers are enrolled in the new apparel program. These individuals work both indoors and out, ranging in formality from high-end luxury suites to general admission. Ensembles needed ranged from food and beverage, customer services, operations host, and security.
The program separates the employees from the fans attending the stadium while still giving a nod to the brand and team colors. Bright pops of blue and orange helps employees stand out from the crowds and remain identifiable.
Image Of The Year - Retail and Professional

MEMBER: Design Collective by Cintas

PROGRAM: ADT
The goal of this program was to identify the commercial technicians in a consistent and meaningful way back to the ADT over-arching brand, while still having its own recognizable program. The program utilizes the same fabrication and color palette of the ADT Residential Program but has its own color combination that makes it unique. That allows the brand to have visual continuity, while still having its own individualized look for Commercial vs. Residential.
The ADT Commercial Program outfits 2,000 wearers. The collection includes performance knit polo shirts, T shirts, cargo pants, baseball cap, layering pieces, and outerwear.