NAUMD IMAGE OF THE YEAR AWARDS
2020 WINNERS
Image Of The Year - Transportation, People
Best of the Best Co-winner

MEMBER: Unisync Group Limited

PROGRAM: Alaska Airlines
Alaska Airlines selected internationally recognized Seattle-based fashion designer Luly Yang and Unisync Group Limited to develop the custom uniform collection. The program was built on a foundation of safety as Alaska Airlines became the first airline in the US to certify a custom uniform collection to STANDARD 100 by OEKO-TEX®.
Alaska Airlines described their desire for the uniform program to have a "West coast vibe, which includes bright pops of color, clean lines and stunning finishes, creating a stylish yet approachable look. This uniform is uniquely identifiable with its use of warm colors of blue, grey and peony blue. It uses a two tone approach of grey blazers with navy pants and brown shoes for the men and navy for the women. The program also includes truly retailed inspired pieces, such as the signature aura dress and men's and women's trench coats.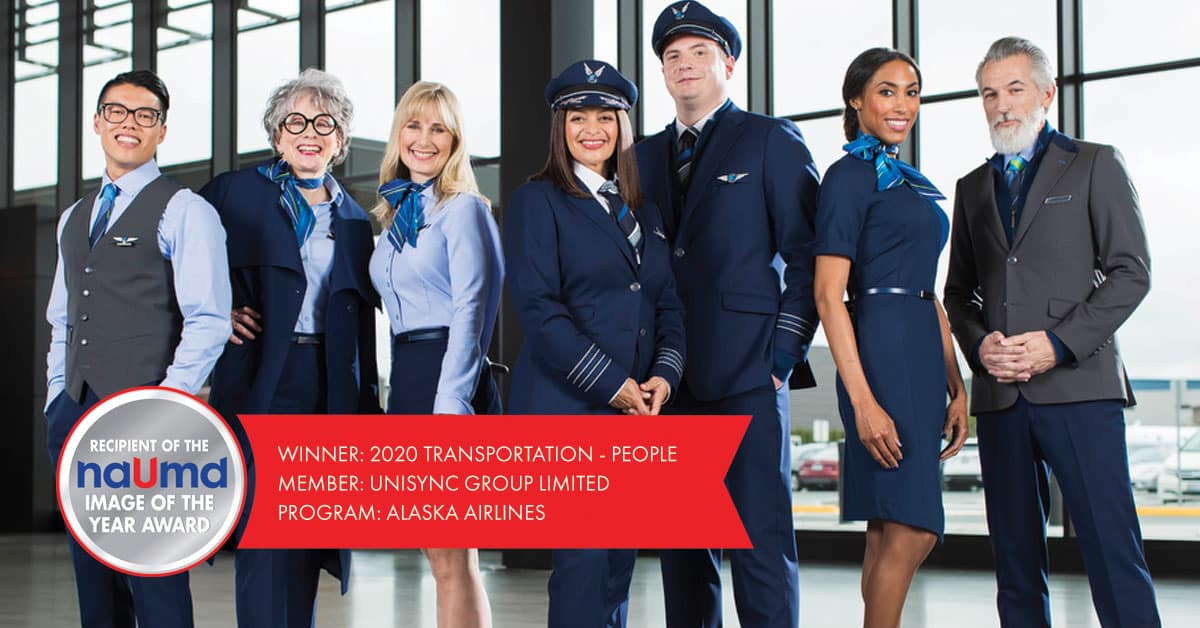 Image Of The Year - Hotels, Multiple Locations
Best of the Best Co-winner

MEMBER: Design Collective by Cintas

PROGRAM: JW Marriott
Being a luxury brand, JW Marriott wanted their Wardrobe to be elegant and add to their brand story, enhancing their guest experience. It was also very important that their associates felt good in what they were wearing and had options and flexibility. The color foundations of this collection were inspired by the JW Brand color palette – neutral greys with accents of a warm blush – and was designed to be a Wardrobe rather than a "Uniform." The Wardrobe approach provides associates with the flexibility to mix, match, and merchandise the garments within their job function based on their personality and style preferences, just as they would with their personal wardrobe.
Image Of The Year - Retail & Professional

MEMBER: Lands' End Business Outfitters

PROGRAM: Chase Bank
Chase Bank is one of the leading financial services firms in the U.S. They are one of the only large banks to still have dress guidelines, and they consider their employees to be the best dressed in the industry. Within this consumer banking division, Lands' End Business provides office apparel for nearly 37,000 employees including Associate Bankers, Personal Bankers, Private Client & Relationship Bankers, Operations Associates and more. The apparel collection Lands' End developed for Chase includes Women's & Men's washable wool suiting, blouses and dress shirts, dresses & skirts, custom ties and scarves, and more.
Image Of The Year - Service & Industrial

MEMBER: Twin Hill

PROGRAM: Huntington Bank
With nearly 1,000 banking offices in Ohio, Michigan, Indiana, Pennsylvania, and West Virginia, Huntington has 6,800 required wearers in its apparel program. The apparel program is for all retail bankers in the retail offices. The environment is indoors and client facing which ratifies the need for employees to look professional and have layering options. The 2019 branded apparel refresh included a new expanded women's offering of two female blouse options, one dress, and one jacket. For men, a sweater, two shirts, and a tie was created.
Almost every piece within the collection is branded with the iconic, yet simple Huntington honeycomb logo or the Huntington full text logo, as well as the recognizable brand color palette, consisting of green, white, grey, and black.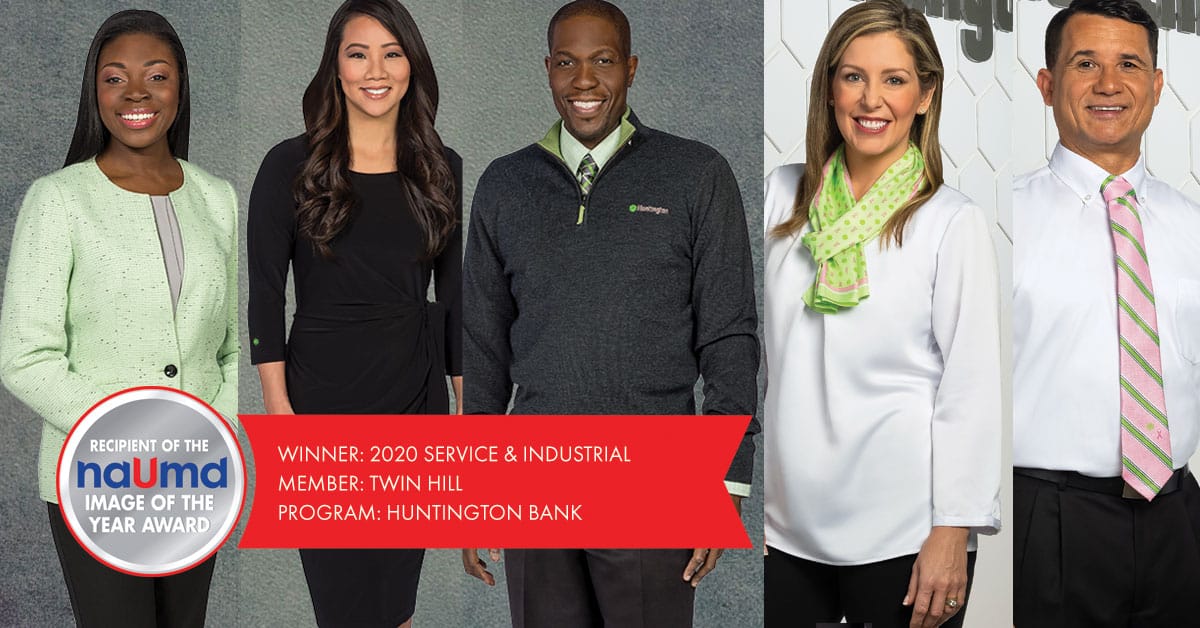 Image Of The Year - Hotels, Single Location

MEMBER: J.A. Uniforms

PROGRAM: Mr. C. Coconut Grove
The Mr. C's uniform program was designed to serve 100-plus employees at a nautically-themed luxury boutique hotel - developed and owned by the Cipriani family - and located in Coconut Grove, Florida. The uniform program was designed to be sharp and tailored, using blues, grays and whites evocative of the Italian coastline. Female front desk attendants wear custom made, form flattering, admiral-blue princess cut dresses accented with a maritime themed patterned scarf in rose that plays off the lobbies color scheme and most importantly, Cirpriani's world famous rose-colored drink - the Bellini.
Male front desk attendants wear a matching poly/wool unstructured double breasted suit in a fabric that retains its shape while approximating wool's texture and breathability.  
Other items in the collection include wear for Bellmen, who are attired in an Admiral-blue double-breasted vest,  matching flat front pants in a flattering modern fit and a contrasting white shirt. The final touch is a black bowtie that mirrors Mr. C's elegant yet whimsical logo.
Image Of The Year - Gaming

MEMBER: Design Collective by Cintas

PROGRAM: Palms Casino Resort
The Palms apparel collection is youthful and sophisticated, designed to compliment, not overshadow, the interior or surrounding area of the property.  A customized, muted color palette was selected to achieve the stated goal.  Sustainability, too, was an important consideration, and is evidenced by the eco-friendly fabrics utilized throughout the program.   
Image Of The Year - Healthcare

MEMBER: Design Collective by Cintas

PROGRAM: UCI Health
UCI Health's new apparel collection includes wear for clinical support staff, physicians, case managers, front desk staff, and food service workers.  Garments reflect today's modern fits and silhouettes in colors that coordinate and identify the job function of each staff member.  Non-clinical staff look modern and sleek; dietary department apparel is inspired by hospitality trends rather than cafeteria norms.   
Image Of The Year - Entertainment Venue

MEMBER: Universal Orlando

PROGRAM: Hagrid's Magical Creatures Motorbike Adventure
The wardrobe is the kinetic art of the Universal Orlando environment and helps to set the stage for guests' enjoyment, thus delivering extraordinary guest experiences.  When you're ready to ride with Hagrid, there are over 160 magical creature caregivers to greet you. Team members wear a long sleeve, corded Henley shirts paired with practical twill pants with snap-cinch hems to keep magical creatures like the Cornish pixies from going up their pant leg. Additional items include a padded vest, leather gloves, padded leather arm guards, padded leather knee pads, and padded leather shin guards.
Image Of The Year - Restaurants, Single Location

MEMBER: Universal Orlando

PROGRAM: Bigfire
Bigfire is an all-new full-service restaurant that draws inspiration from the nostalgia of cooking over open flames.  As guests enter the restaurant, they will feel as though they have stepped into a lakeside summer house. Bigfire features natural design elements of mix and matched fabrics, cast iron, camp lanterns and more to complete the outdoor ambiance inside the restaurant.
Image Of The Year - Transportation, Products

MEMBER: Aramark Uniform Service

PROGRAM: United Parcel Service
UPS was founded in 1907 and since its inception, has become one of – if not the most iconic brands in the world. UPS employees have been wearing the same version of their globally-recognized, iconic brown uniforms for 96 years – until Aramark stepped in. Using 4 million yards of brown cloth and 2 million yards of brown thread, Aramark created a new, high performance uniform collection consisting of 375,000 hats, 405,000 shirts, 375,000 pairs of pants and 290,00 pairs of shorts, in addition to an outerwear assortment.